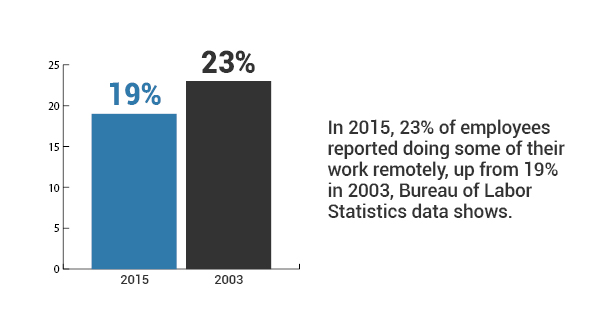 There's a reason why about 60% of remote workers in the survey said that if they could, they would leave their current job for a full-time remote position at the same pay rate — convenience. Working from a non-traditional office environment has countless perks, especially during the winter. Some of them are obvious, but others? Not so much. Let's take a look at some of the best benefits of getting a virtual office space for rent during the winter season.
Shorter Commute
If you have a virtual office space for rent during the winter, chances are, you're not driving nearly as much as you would if you have to commute to a traditional office. You have the choice to explore your options regarding location, so as long as you choose a property close to your personal residence, you can enjoy countless quick and easy commutes throughout the season, even if conditions are less than ideal.
Boosted Productivity
In 2015, 23% of employees reported doing some of their work remotely, up from 19% in 2003, Bureau of Labor Statistics data shows. But those who don't often experience a serious lag in productivity during the winter months. Fewer hours of daylight combined with frigid temperatures can make anyone want to stay in bed throughout the day. But having your own designated office space you can personalize based on your own productivity needs can help you stay on top of your game all season long. You can listen to any music that helps you stay relaxed, work on your own schedule, and best of all, not have to hear the noisy voices of coworkers. That's the true recipe for productivity.
Potential For Lower Rates
Finally, you never know when virtual office spaces will have lower rates, but many times, it's during the winter. While moving all of your work-related belongings is anything but fun, you'll definitely enjoy getting set up and making your time as productive as possible in your new office space.
Ultimately, if you need a virtual office space to stay productive this season, now is the time to start looking. For more information about virtual office spaces for rent, contact Stat International.