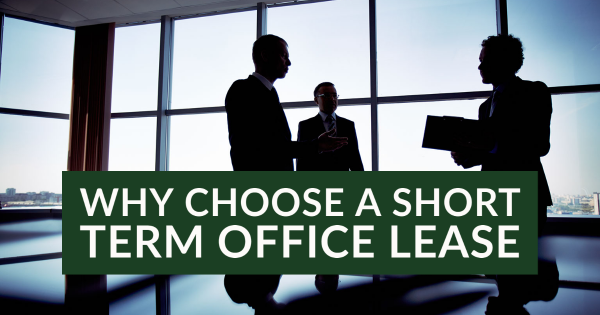 Choosing an office space can be difficult, especially if you are a new business. If you are looking to keep your overhead costs low while maintaining a flexible, professional, and comfortable office environment, then a short term office rental may be the solution for you. Below are some of the benefits of a short term office lease.
Plenty of Options
Short term office rentals offer a variety of choices and customizable packages to accommodate your business' needs. Traditional offices and executive office suites give you the option of establishing a fixed, more permanent office location and address, while shared and coworking spaces offer unique office solutions to encourage employee collaboration and creativity.
Looking to go virtual, or incorporate more telework into your business model? This may be a great option for you as well as your employees, as more people are opting to work remotely. Choosing a virtual office provider may also help your bottom line. As remote work statistics show, more and more companies of all sizes continue to report significant decreases in operating costs when offering remote work options. Even large corporations like American Express are getting into the act, and have recently reported annual savings of $10-$15 million thanks to telework options.
Meeting room rentals are also available for those who want a fully furnished, professional office environment for client meetings, employee functions, and virtual teleconferencing. Look for amenities such as administrative services, audio/visual systems, and cutting-edge technology to provide you with the best customizable, unique office solutions.
All the Perks
Short term office rentals give you the option of having an office space that is both flexible and convenient. Personalized services to accommodate your business' needs allow both your business and staff to thrive in whatever environment suits your business model.
Choose a virtual office setup if you want to offer the option of working remotely while enjoying all the benefits of a permanent business address and administrative amenities. Consider coworking spaces if you want to depart from a more traditional office model and get your staff out of the cubicle. If you need meeting solutions, choose a rental office space with fully furnished meeting rooms equipped with all the latest technology. The choice is yours with a short term office rental that provides everything your business needs.
Not sure what to look for in an office space, and trying to find the most unique office solutions? A short term office lease may be exactly what you are looking for. Short term office rentals offer the flexibility and personalized options your business needs, with everything from executive office suites to coworking spaces and virtual office packages. If you are in Delaware, search for 'unique office solutions in Delaware' today to learn more about Wilmington office spaces for rent.