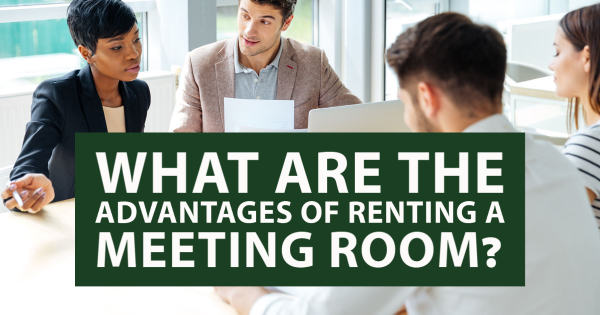 With the advances in technology such as video chat and virtual meetings, many businesses are downsizing the physical space they take up. And with nearly two-thirds of managers saying that employees who work remotely increase their overall productivity, a good number of companies are re-thinking if they even need to have a physical office in the first place. The only real drawback to completely ditching the office is the loss of the conference room or meeting room for when a virtual meeting won't cut it. Luckily, there are meeting rooms available to rent.
As businesses adapt to having smaller offices or no office at all, they are finding the benefits of renting business meeting rooms. Instead of having this empty space that needs climate control, a phone line, and internet; they can book a meeting room for the date and time of their choice. No more wasted cost on utilities for a space that went unused a majority of the time. Also, by renting a business meeting room, these companies can save on the overhead of an office that may have looked dated or stuffy and rent a meeting room that has kept up with the current office trends.
It's not just large, established companies that benefit from the ability to rent a meeting room, many start-ups are working out of their founder's home and need a space to hold interviews or meet with clients and customers. Since many small businesses cannot afford to rent a conference room for a multi-year lease, being able to rent business meeting rooms allows them to conduct business as a large or established corporation would at a fraction of the cost. These meeting room rentals can allow a brand-new business to appear more established to their first clients. They can also provide the overflow space as a small business grows beyond a home office.
Since a business meeting room rental is designed to attract many types of businesses, it is adaptive to whatever a company may need. From the start-up looking to project success, to the business that has outgrown its original space, to the established company looking to shed some unnecessary costs, renting a business meeting room benefits all stages of business development.