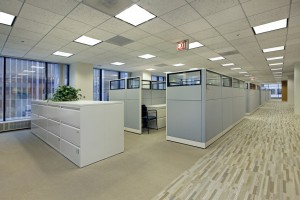 Working outside of a traditional office environment is becoming more popular each year, and recent studies have shown that there are many benefits of telecommuting to work. Almost 60% of employers see telecommuting as a benefit for saving money, and 63% of organizations in an American Management Association survey noted that unscheduled employee absences dropped when a remote work option was introduced. For employees, 80% view the option to telecommute as a major benefit, and 67% state that it's more productive than working in the office.
This last statistic, though, is often the divisive issue when it comes to telecommuting. Even the most dedicated workers can find that they're unable to stay focused while working at home, simply because there are so many other things (including distractions) to do. Getting more sleep, getting more exercise, and saving money on commuting are all huge benefits of working from home — but if you can't stay focused enough to get the job done, then working from home can get pretty tough pretty quickly.
This isn't to say that reverting back to old office spaces would be a better option. Instead, let's take a look at some simple ways you can stay focused and productive even while telecommuting:
Wake up early and change out of the PJs
If you'd normally have to wake up at 7:30 to get to work by 9:00, don't change that schedule and sleep until 8:55. Instead, wake up at your normal time and use that hour and a half to tend to personal matters before you start working. Putting on a pair of jeans (instead of sweatpants) will tell your body that it's time to work.
Set clear boundaries for yourself — and for family/friends around you
Just because your boss can't see you talking on the phone doesn't mean you have to answer it when someone calls about a personal matter. Set clear times of when you'll be "at work" and politely ask friends or family to be respectful of your time. If you work in your home, have a specific room or designated work space.
Don't actually work from home; try a temporary or virtual office setup
Some people choose to work in coffeeshops (free wifi!) but virtual office spaces are becoming pretty popular these days. These temporary office spaces are ideal for a small business or an entrepreneur who wants to save money by telecommuting but still needs a professional office space in which to work. Many virtual office suites are fully furnished and are equipped for client meetings, phone conferences, and much more.
Quite simply, telecommuting offers a variety of benefits and it's not hard to find what benefits you the most. Staying productive may not seem easy at times, but setting yourself up to succeed is the first step to making it work!