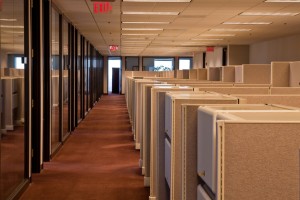 Employers are responsible for not only the well being of their company or business, but the happiness and retention rates of their employees. As the potential for and popularity of digital labor increases, more and more companies are offering work from home opportunities or virtual office setups. Nevertheless, there are advantages and disadvantages to each type of work environment, respectively. Figure out which one is right for your office:
Traditional
Having traditional, fully furnished offices has a lot of advantages. Many people find it easier to get work done in an environment that is conducive to concentration, and they appreciate the compartmentalization of their work and home lives. The chance to socialize outside of the home is also valuable — many people make new friends in the office that outlast their tenure at the company.
The chance to interact with one's coworkers also offers the chance to form valuable business relationships and better team bonds. In many cases, having a professional office environment is essential to maintaining connections with important clients.
Virtual
The first commercial application of a virtual office occurred in 1994, and has really taken off since. Many companies offer their employees work at home options, which 80% of employees view as a job perk. Benefits include saving the time, expense, and headache of commuting. It also gives employees more flexibility when it comes to home and childcare duties, and allowing employees to work from home can improve retention rates.
The reduced commute is good news for employers — Sun Microsystems found that employees working at home used 60% of the time they would have spent commuting, actually doing work.
Working remotely or through a virtual office service is proven to improve attrition, and can provide the on demand use of conference rooms and offices for meetings. It also saves money for an employer on real estate, furnishings and other associated office costs.
The case is strong for both work environments. The trend of telecommuting will probably continue to grow, as there are more and more digital marketing and development firms, and the quality of virtual offices improves. But no matter how popular working online becomes, the old-fashioned comforts of daily interactions at fully furnished offices still stand.