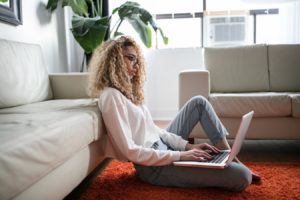 With workplaces increasingly going digital, many modern professionals are working from home. While remote work is great for saving money on commuting and reducing stress, working from home also comes with its own fair share of challenges.
Consider the three following tips you can use to help you keep your focus and stay productive while you're working from home.
Have a gameplan and stick to it. You may have a personal to-do list, but it's also important to have a professional to-do list. When you work from home, it's easy to get sidetracked. It's helpful to have the work you need to get done for that day listed out in front of you where you can see it. As long as you get that list of things done by the end of the day, it doesn't matter if you get distracted.
Don't let friends stop by. Speaking of distractions, it can be tempting to tell friends and family that they can swing by your house when you're working remotely. While it's convenient to work from home and be there if and when your friends and family need you, it's important to set boundaries. And boundaries are only effective if they're enforced. Remember that you still need to get your work done and your friends and family will still be there when you're done.
Rent out a coworking space. Sometimes you want to work from home, but there just isn't a space for you to do your work without getting distracted. Coworking spaces are a great alternative to working from home and working in the traditional office at your workplace. Not only do they create a professional and quiet atmosphere but they also provide a good networking space for you to meet other likeminded professionals.
Looking for coworking spaces in Delaware?
If you're a remote worker, you're not alone. In fact, there are up to 400 million entrepreneurs around the world and many of them are working out of their own homes.
But if working from home just isn't cutting it for you anymore, it may be worth considering coworking spaces in Delaware. Stat International provides flexible office spaces for entrepreneurs and remote workers in Wilmington DE. To learn more about our different office solutions, executive office sweets, and virtual offices, contact Stat International today.