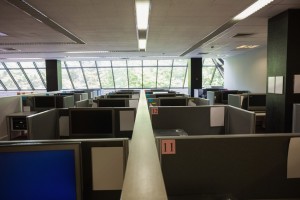 If you're one of the 80% of people who enjoy the job perk of working remotely, you have nearly unlimited options of where you can do your daily work tasks. Instead of sitting in a cubicle, working remotely allows you to create different office solutions. When you don't have to be in a traditional office setting, you have the opportunity to find the setting that helps you be the most productive and makes you the most comfortable. Check out the three best locations for working off site!
At Home
One of the most enjoyable places from which you can work remotely is your own home. Forgo traditional office space for familiar and comfortable surroundings. Many people who have the option of working remotely like staying home because they never have to be burdened with leaving and going outdoors. In the cold winter months, this offer is especially attractive. If you work remotely from home, you can reap the full benefit of not having to commute.

Recent studies have shown that working from home can increase productivity and reduce stress. You can adjust every aspect of your work environment to fit your needs and help you work to your greatest capacity. By tailoring a work space to one's distinct specifications, it is easy to see why a full 67% of professionals say they feel more productive while working remotely.
At a Local Coffee Shop or Cafe
If your company offers a virtual office that you can take anywhere, consider grabbing your laptop and heading out into the community to enjoy working remotely from a pleasant little coffee shop. The ambiance and scents of a coffee shop or cafe are warm and inviting, and could help to relieve some everyday work stress. Coffee shops often offer free wifi, so you can take advantage of this amenity.

The soft background noise at a coffee shop can help to increase productivity as well. A study from The Journal of Consumer Research found that the level of ambient noise in a busy, bustling coffee shop enhanced creativity as compared to quieter locations. A little bit of noise can assist with abstract processing, thus leading to improved creativity.
At Your Community Libraryhttp://stat.international/unique-office-solutions/meeting-solutions/
If a more studious environment is what you seek, there is no better place to go than a library. Any resource you could possibly need is there at your fingertips. There is a sea of endless information that could really help you produce your best work. Libraries have many public resources that are free to use, like computers, printers, and scanners. If you do not have one of these pieces of technology, you can use the ones at the library and save yourself hundreds of dollars in new equipment.
Where is your favorite place to work remotely? Let us know in the comments below.