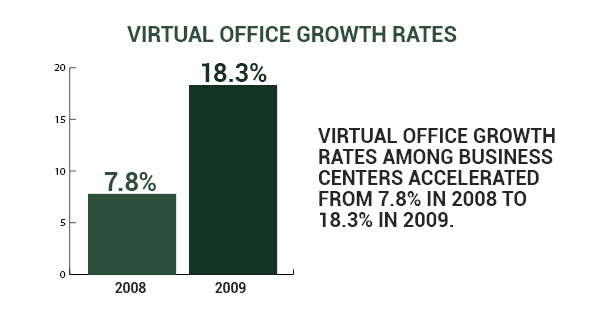 Virtual office solutions have certainly become more popular in recent years. When the Office Business Center Association International conducted a large scale survey in 2010, they found that virtual office growth rates among business centers accelerated from 7.8% in 2008 to 18.3% in 2009. Virtual office space solutions are beneficial for international travelers, but they're also an excellent choice for local small businesses, startups, freelancers, and telecommuters. Below, we'll discuss a few reasons why you may need a virtual office space for your endeavors.
Higher Productivity
If you're looking for virtual office tips and tricks, it's important to note that just having a virtual office can help improve productivity among employees. Those who normally work from home may find that it's comfortable but comes with a lot of distractions. And when you're just starting a company or are looking to expand, it's better to conduct business in a setting that's conducive to work, rather than in a basement or spare room. Employees tend to be much more efficient when they're satisfied with their surroundings. Using a virtual office can help increase output, which is key for both freelancers and small businesses alike.
Lower Costs
When you've just launched your business, are looking to expand, or are venturing out in the world as an independent contractor, it's vital to keep your costs down. If you're forced to rent an office space, you'll essentially be wasting money every month. But with a virtual office, you can put that money towards improving your business as a whole. Since you'll be saving substantial amounts with virtual office space, you can pass those savings on to clients, afford to pay employees more, or finally afford to create the vision you have for your company. And best of all, saving money doesn't mean you have to sacrifice; you'll still have everything you need to thrive but without all the added fees.
More Perks
Not only will you not have to deal with high costs, but you'll get all the perks of a conventional office without the extra fuss. It's not likely that your home office grants you tech support or an answering service! You'll also have wealth of technology and assistance at your disposal, as well as a mail room, VoIP, or copy services, depending on the type of package you sign up for. Freelancers and small business owners alike will better be able to conduct their daily operations with these perks and will be able to attract more clients or candidates because of them.
Great Location
Who doesn't want a centralized, prestigious location for their business? It's easy to find, saves you time, and will impress clients. If you want to rent out a great office location, you'll have to pay top dollar. But with our virtual office tips, you'll be able to gain access to that amazing location without making a poor financial choice. Ultimately, having a centrally located office space allows you to do your job more effectively and make a great impression — two vital components of success for any business professional.
Better Branding
Where you conduct your business says a lot about you. If you want to truly compete in a saturated marketplace and enhance your brand's image, a virtual office can be a great way to accomplish that. Your profits will typically be higher when you don't have to rent or own an office outright, but your virtual office location will also aid in your brand perception. Instead of being known as a home-based startup or freelancer who works from your couch, you'll be seen as a leader in your industry due to your prominent address and professional setup.
Whether you want an alternative to working from your home or are looking to expand your business without the high overhead costs, there are countless virtual office tips that will help you succeed. To find out more virtual office tips to grow your organization, contact Stat International today.