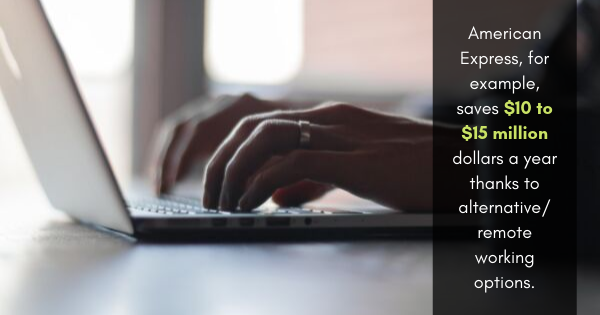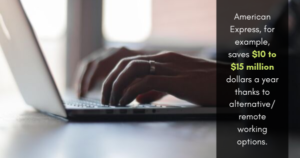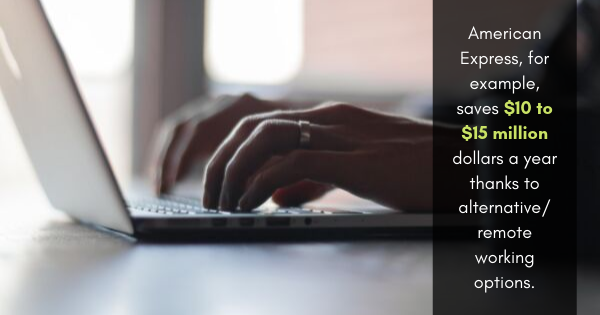 In the face of ever-changing technology, increased connection speeds and a new focus on what is important in business, remote work and new types of office environments are more and more popular. Especially in large cities where the cost of owning a building or renting a prime location seem out-of-reach, virtual office spaces for small businesses are sought out.
While many service industries do still rely on brick-and-mortar locations for success, the vast majority of business can be done without a fixed space. And if you're a small business, in particular, the amount of money saved on fixed office space can be used to grow your business. Here are some benefits of remote work, with a special focus on virtual and coworking spaces to consider as a business owner.
Cost Savings
We touched on this briefly in the introduction, but the cost savings of virtual office space and coworking spaces are significant. That's not just a benefit that helps small business–American Express, for example, saves $10 to $15 million dollars a year thanks to alternative/remote working options.
When a small business reaches a certain level, it's no longer ideal to remain in a single-room office, or a garage, or whatever the case may be. When it's time to expand, it can be very concerning to worry about the rent of an office space. Coworking and virtual office spaces for small businesses can help immensely in this regard, even preventing bankruptcy from hastily thought-out rental arrangements.
A Real Place to Do Business
In addition to the cost savings, virtual offices and coworking spaces can still provide a set location for a business to conduct meetings, and meet and work face-to-face with their teams. Remote technology and virtual meetings are commonplace–even in businesses that have huge corporate headquarters. But being able to meet face-to-face with your team is important as well.
High-Profile Address and Contact Info
An office in the city isn't cheap. And even the cheapest ones are less-than-desirable for the most part. But it's also great to be able to hand out a business card with a downtown address, a business line and mail-forwarding service.
When an actual office space can't be rented or purchased, a virtual address is the next best thing. You can get mail, phone calls and have the high-profile address in the middle of the city without the extreme costs that go along with it.
The Continued Sense of Freedom
Chances are, when you started a business, you didn't want to be chained to a landlord/tenant agreement or answer to someone else about how you could or couldn't decorate your office. While coworking spaces certainly do have rules about what you can and can't do for decoration, you're also free to continue enjoying contract-free use of an office space only as you need it. And best of all, you and your employees can continue to enjoy working remotely whenever possible.
Virtual office spaces for small businesses give you the appeal of a bigger business, but you get to keep your team happy while saving money. Focusing on growing your business and creating an awesome product should be your focus…not how you're going to pay next month's rent.