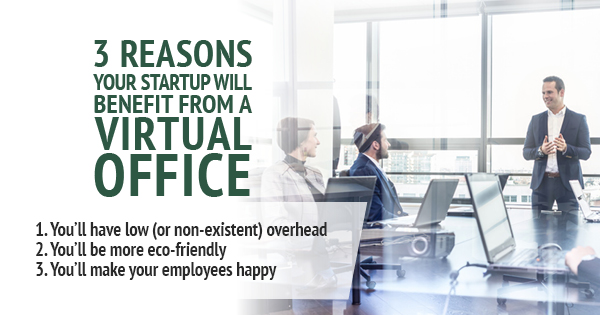 If you've decided to run your own startup, you'll have the unique opportunity to decide what kind of work environment will be best for your business and employees. While some startups want to go for a more traditional office, others decide they need a virtual office space to fit their needs. The top 10 industries most likely to use virtual offices are those in the legal, financial, consulting, tech, real estate, healthcare, marketing, entertainment, retail, and construction fields. However, virtual office spaces can work for all kinds of new businesses. Below, you'll find just three distinct benefits that virtual office spaces can provide for your startup.
You'll have low (or non-existent) overhead
When your business is in its infancy, you'll probably want to do anything you can to reduce your spending. Financially speaking, virtual offices are way more cost-effective than brick-and-mortar locations. If you purchase offices, you'll have to worry about furnishing them, paying for utilities and cleaning, and insurance fees. But with a virtual office, you eliminate those costs entirely. For businesses that are just starting out, every penny counts. If you can conduct business just as well in a virtual office, why wouldn't you want to save money?
You'll be more eco-friendly
Many startups feel it's important to operate with sustainability in mind. Having virtual office spaces in lieu of a physical office will eliminate fuel emissions from employee commutes and will also reduce paper waste and trash. Plus, you won't have to add to the amount of electricity and energy already being consumed. An eco-conscious business model can have a big impact on your marketing as well, so you'll likely bring in new customers just for these practices alone.
You'll make your employees happy
Happy workers are productive workers. These days, employees crave flexibility. By allowing them to telecommute, they'll be much more loyal to your company and the benefits this structure affords them. That will lead to reduced attrition and missed work days, both of which will help your bottom line. In addition, many potential employees will gladly accept a lower salary or will give up other benefits for the opportunity to work remotely. This is a smart money saving measure that also manages to invest in your employees. Ultimately, your startup won't survive without a strong team. Many businesses find that they need a virtual office space to ensure their employees will be as productive as possible.
Whether you run a startup or manage a well-established business, you might find you need a virtual office space to address employee desires and reduce company costs. To find out more, contact Stat International today.